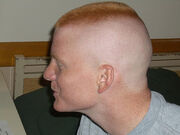 A haircut made popular by the Marine Corps. The hair is buzzed extremely close and high on the back and sides, typically #1 (1/8") or less.  The top is typically around 1/4 - 3/8 inch (#2 or #3), although it isn't uncommon to see longer, combable lengths. 
The essence of the high and tight, compared to other high fades, is usually that the back is buzzed right up to, or partially into the crown.
Longer versions of this cut may be styled with gel, pomade, or other products. Sometimes the back and sides are shaved with a razor. Crewcut and flattop variations exist.